What my experience in planning virtual public meetings taught me – and how it's helped me host virtual events with friends and family.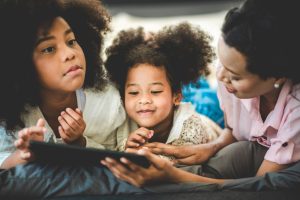 By Brittnay Bell, Account Executive
Like much of the rest of the world, the pandemic has forced much of my life online. I've hosted family holidays, a baby shower, and even attended a wedding on virtual platforms (think Zoom, Microsoft Teams, Google Hangouts, Facebook…the list is endless).
This year our agency helped a few clients through uncharted territory by co-hosting virtual public meetings and engaging constituents in new ways to collect feedback for various public works projects. Little did I know, that experience would prepare me to host our family's virtual Thanksgiving and co-host a virtual baby shower. Here are a few of my top tips for connecting virtually:
Platform matters, not only for speed, security, and reliability but also for low entry barriers. You don't want it to be overly complicated for people to join your celebration (ahem…meeting). Pick a platform that is easily accessible, and made for a variety of devices, including desktop, tablets, and cellphones. This ensures that anyone and everyone who wants to participate can do so.
Planning is important, and test runs are imperative. You want to be sure that on the day of, things go off without a hitch. Test your meeting with a few participants, I enrolled my sister and aunt for the job, but anyone will do. If you have a co-host or panelist, you will want to make sure they are in the practice meeting so that they are familiar with the platform's features, how to find them, and how they will be used during the meeting.
Facilitate genuine conversations and moments. It likely isn't going to be very hard with family and close friends to get the conversation going. If you are hosting, create a virtual environment that fosters conversations, encourages participation, and keeps everyone engaged. It is also helpful to have a designated 'tech support' person for the family to reach out to if someone needs a little bit more help joining the call or participating. It will reduce confusion and hopefully minimize the intrusive and obstructive outbursts of "I can't see everyone!" or "Can you hear me?!" It is also helpful for virtual meetings to include your tech support's contact information on any communications announcing or publicizing the public meeting.
Engage invitees by utilizing technology and your chosen platform's features to create exciting ways for participants to be engaged. Need to break into smaller groups? Zoom lets you do that, and it came in handy when I needed to talk to my sister about a specific recipe while everyone else on the call was busy catching up in regular conversation. You can also plan games that are fun for everyone. There are plenty of new apps that have popped up during quarantine, and alternatively, you can keep it simple by playing games that are well suited for a virtual party (without an extra app) like charades or Pictionary. We had fun creating our own trivia night using Google forms, sheets, and slides. At Rasor, we've had great success in our virtual public meetings in engaging participants with facilitated Q&A sessions, polls, and chat conversations.
Have fun! Virtual parties can't replace in-person gatherings, but they can be a fun and safe substitute that keeps everyone healthy and connected. The most important part of any virtual get together is to have fun and share in a unique experience of the times that we will be able to reminisce on but hopefully never have to endure again in our lifetime.