By Libby Hagedon, Account Executive
Who would have thought that disappearing video would be one of our favorite ways to share our lives on social media? Instagram Stories — 15-second videos, photos or text that disappear after 24 hours — are shared by 500 million users every day. Instagram is a great way for small businesses to engage with their audience in a fun, interactive and personal way that keeps businesses at the top of potential customers' minds.
If your target market is Millennials or Gen Z, this is the place to be. 60% of Millennial users watch and post Instagram Stories, more than Snapchat or Facebook. Gen Z leads the pack though, with 70% of users swiping through stories throughout the day. With Instagram's addition of Instagram Stories, the ability to stay in touch with followers has never been easier. So how can we, as marketers, incorporate Stories into our marketing strategy?
If you have an Instagram account for your business, woo! Make sure it's a business account (just a few taps of your finger) and tie it to your business's Facebook page to see the most data for analysis during the month. Some tips for sharing Stories:
Make sure you have access to high-quality images that are clear and visually interesting. Instagram is a purely visual medium for communicating – say more with the visual than you do with text.
Have a clear goal. Do you want to reach more people? Send traffic to your website? Lead generation? Focus all of your efforts towards one goal for the best return.
Post organic stories daily. Get in front of your audience and make them comfortable with your brand and remember you.
Done is better than perfect. Stories don't have to be a full production with lighting and mics – it can really be your social media manager with a steady hand and their phone.
Use post-production tools like Canva to create a branded template, add stickers, text and links. Keep it fun!
You can save your favorite Stories in Highlights, and categorize them, so that people can find information quickly and easily.
Let's look at some examples of brands crushing it on Instagram Stories:
Explore Canada created Stories featuring gorgeous locations throughout the country. They added a little maple leaf in the middle for fun. Then, they mentioned the travel accounts for that location – Winnipeg and Manitoba – and created a "See More" swipe-up feature to lead their followers, ultimately, to explore Canada.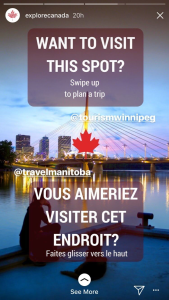 Everlane goes into incredible detail about how their products are made on their Instagram Stories. Their staff shows off their clothing, creating an instant look book and inspiring followers to try something new.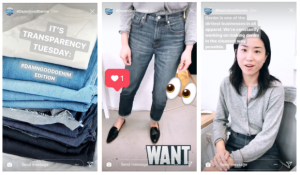 Chirp got me with one of their Instagram ads. While I am still awaiting my magical back-cracking pain relieving wheels in the mail, I don't have to wait to know that they're killing it in the social media sphere. They highlight behind the scenes shots from their promotions and share names of the people behind the product. They also share photos from their fans that tag them, a great way to share a testimonial or review in a more visual platform.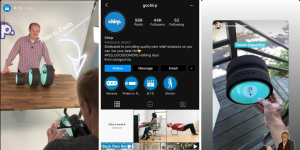 Now that you have your tips and tricks, and a little bit of inspiration under your belt, go try it! Explore and see what Instagram Stories can do for you and your audience.