Yes, Mimi Rasor pays me to work at this award-winning Cincinnati marketing communications agency, but she does not know what I am going to say in my blogs. (Sorry Mimi, I'm going rogue!) As our president, Mimi is a visionary genius. Her mind is on par with her heart, which is what makes this place a one-of-a-kind marketing and communications agency. This is a story about both.
For decades, Mimi worked both as a hospital marketing director, and then alongside marketing executives as respected counsel. She knew firsthand the frustration that comes from having mountains of data, and no time, no resources or no skill for measuring it (or more importantly, figuring out what the measurement meant).
She spent years helping hospitals make sense of their marketing data; explaining to marketing teams what they needed to measure, why they needed to measure it, and how to craft strategy from what the data told them. As a result, our hospital clients saw preference, market share and budgets grow.
Through all of this, she was busy pondering and considering an even more effective tool for hospital marketers. For the months leading up to the development of our groundbreaking app, Mimi had a vision of creating a measurement tool that would filter out the noise that interrupts so many hospital marketing leaders daily.
Together our team brings more than 75 years of healthcare marketing experience to the table. She gathered us up, told us her vision, and challenged us to help her make it happen. Coupled with what we have seen in the industry and recent research released by SHSMD and HFMA , we began drawing pictures of what this tool would look like. We started making Excel spreadsheets of what it might measure and how the data points would interact.
We interviewed app programming companies from all over the country. We spoke with our legal team to make sure our t's were crossed and our i's were dotted. We spoke with statistical analysts who will partner with us to add a predictive modeling layer to our system. And then it started happening. Little by little, we fleshed out the spreadsheet until it represented a set of data that measures the important indicators. Our amazing designer, Abby Brown, developed a vision based on our drawings that would lead us forward. And we got Atomic Robot on board to begin the programming. Our creative team constructed branding, messaging and a marketing plan. And then it happened. Market Vitals was born.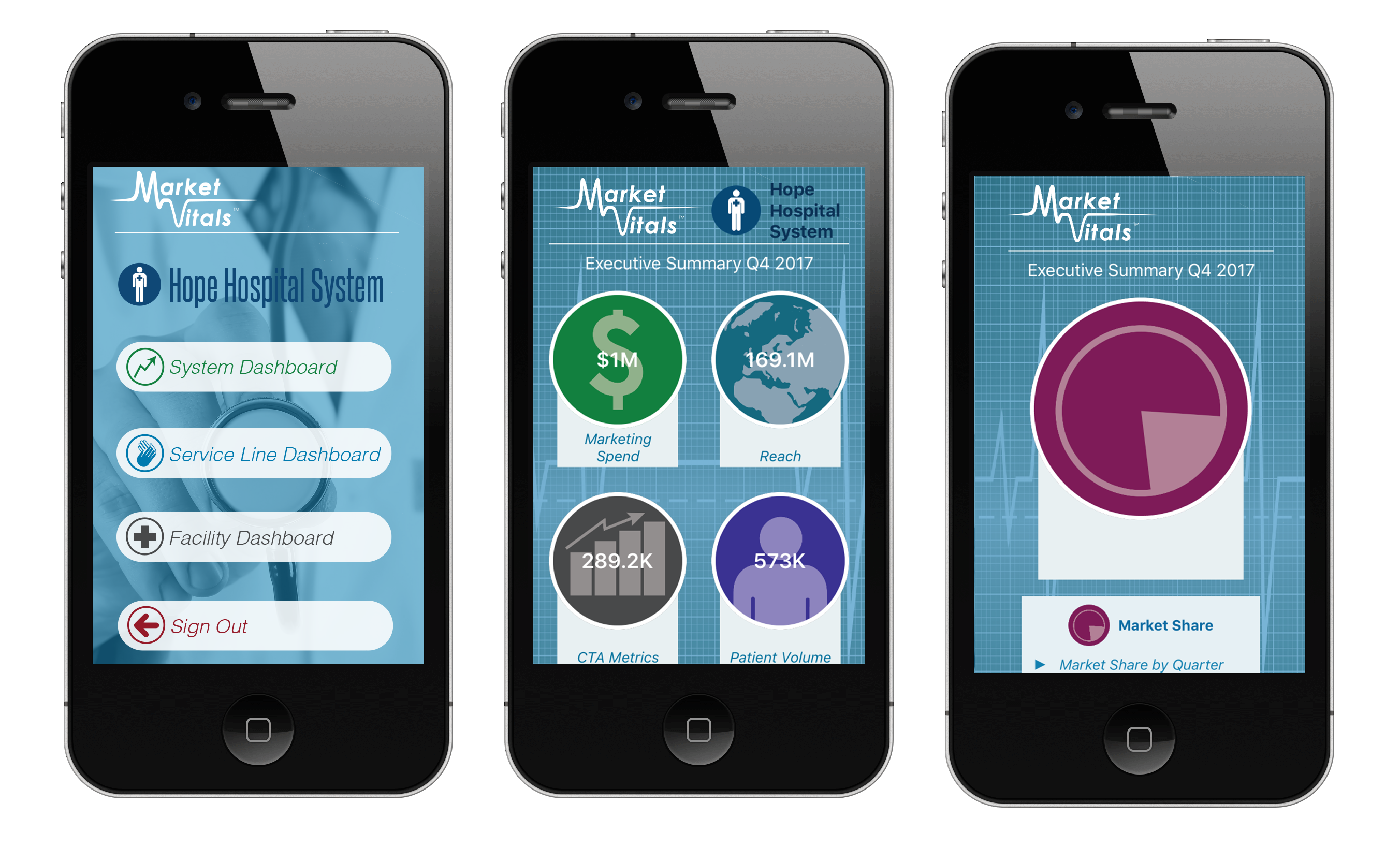 Nine months after our first meeting, we were showing our app to potential users at a national convention for healthcare marketers and selling our first subscription. It was fast, it was brilliant, but it was really a long time in the making.
Like all healthcare marketers, Mimi had seen the number of issues a hospital or health system marketing department faced. Physicians want to see how your programming will impact their patient load. Finance wants to see real time results to accompany that increase the department requested in its budget. Operations want to know how you can drive more volume into a particular service line. It seems like a daunting task. And it is, especially with all of the clutter of measurements flooding your desk on a daily basis. Market Vitals removes the noise, and focuses your team on the essential core of your hospital's performance and how it is impacted by the marketing and communications department.
I love watching our Market Vitals clients' faces light up when they see how easy the app is to use, how it can launch their hospital marketing metrics light years ahead, and the wealth of really intelligent information it provides. We have a 15-minute webinar that explains how it all works. Reach out to us so we can schedule one for you.