By Libby Hagedon, Account Executive
"Should we be advertising on Facebook?" is a question we hear often. Facebook has made it hard for any of its Business Page owners to ignore the advertising opportunities that it presents. Messages like "This post is performing 86% better than the rest of your posts! Boost it for $10 to reach more people" pop up constantly. "Want to reach more people in your area? Try an ad for $20." is at the top of all Facebook Business Pages, whether it's for a chic clothing boutique or a car repair shop.
Does this feel click-baity? Yes, it does. So when should you be using Facebook advertising?
If you have a message that you want to get to a larger audience, like an event, you can use Facebook's Boosted Posts tool to reach a broader audience than you could by posting it without putting any money behind it. You can target friends of people who like your page, and target within specific locations.
But what if you want to advertise a product? This is where it gets fun.
Facebook's Advertising platform and its companion, the Facebook Pixel, is a powerful tool that can be leveraged to precisely target people who look just like your most loyal customers.
If you haven't set up a Facebook Pixel on your website, please do. This pixel lets you track and target the people who visit your website on Facebook. It's simple to set up, and only takes a few steps.
Use Facebook's Events Manager on your website to set up events that you would like to track. This requires zero coding knowledge, it only requires you to understand what actions you want to track by visitors on your website. You can access the Events Manager on the Ads Manager page. Social Media Examiner has a great example of how to do this. This way, you can track the behaviors of people who come to your website.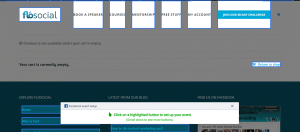 Create a traffic campaign on Facebook with their Ads Manager tool to drive traffic to your website. As you're getting more visits to your website, Facebook gathers data based upon the Events that you set up with their Events tool. Facebook is also learning what kind of people come to your website, and is constantly turning the dials of its algorithm to see what type of ad, what type of creative, and what type of copy will elicit the response desired from that audience.
Use Facebook's Audience Tool to create audiences that are based upon the actions that visitors take on your website. Some ideas:

All website visitors in the last 30 days.
Website visitors who visited a specific product page within seven days.
Website visitors who put a product in their cart, but abandoned it.
Website visitors who visited a page with a lead form, but did not fill out the form.
The top 25% of website visitors by time spent on site in the last 30 days.

Create advertisements that target those audiences and see what works! Do they respond to inbound marketing tools like blogs and videos? Or do they respond to a 30% off coupon? This step can be worked and reworked to find what resonates with your potential customers.
From these audiences, you can create what Facebook calls Lookalike Audiences. These audiences are a huge advantage that Facebook offers: because Facebook understands and tracks the consumer behavior data and information of two billion people, they can find people who behave similarly to your most loyal customers. Now, it's up to you to create the advertisements that pull them through your sales funnel.
The next time Facebook tells you that your post could reach more people for $10, think of this blog and where you want to spend your company's marketing dollars. Do you want to spread the word about an event? Or do you want to create an advertising campaign that will help drive sales for your business? Creating a campaign with a strong backbone from Facebook's Pixel, Events Manager, and Audiences can help you reach the right people at the right time.