By Elyn Buscani, Account Manager
As it did for every other facet of our lives, COVID-19 greatly impacted consumer media habits. eMarketer reports that U.S. adults increased media consumption across all types in 2020 to a new high of 13 hours, 21 minutes per day (58 extra minutes year-to-year). Now that federal and state guidelines have relaxed, and ballparks and other venues are filling with people, what does consumer media consumption look like and what should marketers consider?
Pandemic media consumption gains will largely stick for digital and will decline for traditional TV this year and in the future, according to eMarketer. However, "time spent" is only one consideration as marketers fight for attention in consumer brains.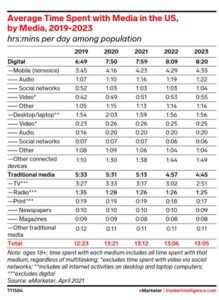 NuVoodoo Media Services, a research and digital media company we often partner with, has been tracking consumer trust in media, media consumption, and a number of other questions throughout the pandemic and regularly updates these trackers. Consumer trust in media is particularly important, especially for marketers in healthcare, financial services, and insurance. Based upon NuVoodoo's national research, local TV news and Google rank as the most trustworthy media sources for accurate information. The social media platforms surveyed ranked as the least trustworthy sources for accurate information, with 1/3 or more respondents scoring Facebook, Twitter, and others at a "3" or lower on a 10-point trust scale. Rasor launched a new multimedia campaign for healthcare provider HealthPoint Family Care in April, and we specified the largest share of the budget (48%) in broadcast TV, mainly in news programming. This month, HealthPoint Family Care is beginning a partnership with a TV station health reporter.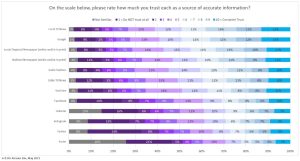 In the end, marketing is both a science and an art and that's why it is spelled out in our Rasor mission. There's no one-sized-fits-all answer for media planning in 2021 and beyond, so marketers must continue to make the best use of upfront research, measurement tracking during campaigns, and post-buy analysis based upon organizational goals.