By Brittnay Bell, Account Executive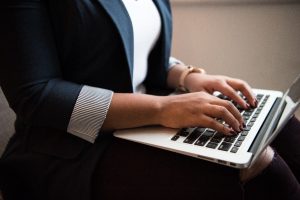 So, you're ready to start or improve your blog and you're wondering where to start? Well you've come to the right place. The following tips are easy to follow and serve as a starting point for any blog post.
Pick an interesting topic
A blog is a great communication tool that can show potential clients and customers why you are a leading expert of your field. You want to make sure that you are writing about things that are of interest to your audience and also provides an opportunity for you to show your expertise. You want to make sure the topics you write about are subjects your audience wants to read about, the longer they stay on your page, the more they click on links and the higher your Google rating. Conversely, if readers aren't staying long it will lead to an increased bounce rate which could negatively impact your SEO ranking.
Write at a level that everyone can easily understand
You want to convey that you are an expert on the subject matter you are writing about, but you want to make sure that your content is easily consumable. Otherwise, readers will become frustrated and leave your blog, increasing your bounce rate and sinking your SEO. You can easily test the readability of your blog by sending it through and application that will give you a Flesch Reading Ease score. The higher your score the easier your piece is to read; the sweet spot for a blog is a score between 60-70. Anything less runs the risk of causing enough frustration for your reader to bounce and anything higher may not convey the level of expertise you want. (This blog post scored a 67.6.)
Write an enticingly catchy headline
Your headline should give the reader a glimpse into what your blog post is about while also pulling them in. It should have emotional appeal that packs a punch to pique the readers' interest. If you are having trouble drafting the perfect headline, here are a few tools that can help.
Optimize for SEO
Identify one or two keywords that naturally occur throughout your blog post. Once you've written a first draft of your blog post it should be easy to identify one or two keywords. When proofing your blog, make sure that these key words are naturally occurring throughout your blog. You don't want to have to force your keyword(s) into your blog and you do not want to stuff your piece with unnecessary keywords; both of these actions could harm your SEO.
Make sure to utilize meta descriptions. Meta descriptions summarize a page's content in less than 155 characters. Yoast does a good job of explaining why meta descriptions are so important:
Search engines show the meta description in search results mostly when the searched-for phrase is within the description, so optimizing the meta description is crucial for on-page SEO.
Include links to other pages of your website. Incorporating links to other pages of your site will not only increase your overall web traffic, but if your content is compelling enough that readers click through, your bounce rate will decrease.
Incorporate graphics
The right images compel readers to stay on your blog longer and the best ones will encourage readers to share your blog to their networks via email or social media (you do have easy share buttons set up, right?). There are an endless number of tools available that you can utilize to create or purchase the perfect graphic for your blog. Free tools like Canva, Piktochart and Adobe Spark can help you create the perfect graphic to support your blog post. If creating an original graphic seems a bit intimidating, you can take a cue from buzzfeed and incorporate the latest memes and gifs as a way to connect with your reader. If all else fails, you can look into purchasing stock photography from services like iStock and ShutterStock.
Blogs are an important part of your online communication strategy. They help your audience get to know you better, establish your credibility as a subject matter expert and increase your website's SEO. Feeling too intimidated to undertake your own blog writing or just don't have the time? Our team has vast experience writing for blogs from science heavy and technical to fun and upbeat blogs. We would be happy to help you establish a blog to engage your audience.