Each February, America gathers together to watch two national football teams battle it out for the Super Bowl win. This gathering often includes gluttonous amounts of snacks, an over-the-top halftime show, and someone being very disappointed that their team lost. It also includes the biggest (and most expensive) ads of the year. We loved tuning in and live tweeting, and here are the biggest trends we noticed this year: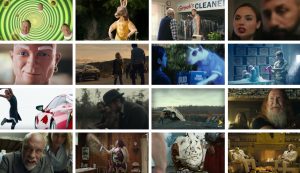 Can't We All Just Get Along?
Unless you've been hiding under a rock for the past four months, you may have noticed that our country has been a bit…divided lately. And not about who they want to win the Super Bowl. A few brands reacted to the recent hot topics in America by echoing unity and acceptance in their messages. AirBnB and Coca Cola lead the pack in centering around diversity and togetherness without being blatantly political…we're looking at you, It's a 10.
Artful Innovation
While some brands featured meaningful messages front and center, some focused on pure aesthetics. Companies like H&R Block,  American Petroleum Institute and LIFEWTR introduced seemingly boring products (taxes, oil and water) with an artful visual twist. Despite the appealing graphics, most of the messaging in the ads came off as a bit bland. On a night where it pays to be bold and meaningful, these ads fell flat.
Odd (Celebrity) Couples
I don't know who decided that Christopher Walken and Justin Timberlake needed to be in an ad together, but I loved it. Brands like Tide, Bai, and T-Mobile paired up celebs to create hilarious and memorable spots. Celebrity endorsement is an age-old concept in advertising, so it's refreshing to see brands exploring the unexpected. Like who knew Martha Stewart and Snoop Dog could help sell phone plans?
On a whole, the ads this year were a bit of a mixed bag. There were a few that left me inspired, like Audi's powerful spot that highlighted the gender pay gap. Some ads made me laugh, like Melissa McCarthy as Kia's hero our world definitely needs. And then there were ads that I didn't need to see in the first place (why, Mr. Clean?). What did you think of the ads this year? Comment below or tweet us at @RasorMC! We already can't wait for Super Bowl 2018!