By: Mimi Rasor and Allison Neikirk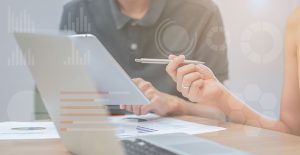 It happens at every organization: over-reporting. Teams create reports, then more reports and even more reports, each with their own format and level of detail. Then when it comes time for strategic planning or leadership team meetings, it's nearly impossible to combine all the pieces to create a single point of view. Teams are pulled off their already burgeoning workload to pull together information for yet another report.
Piles of insightful, informative data is set aside by marketing teams that don't have time to sift through it. The future of millions of marketing dollars is thrown to chance without understanding what's working and what's not.
If one more person tells me how important it is to measure…
Right? You already know marketing measurement:
Gives you the knowledge to optimize your marketing spend and plan your budgets more wisely.
Creates a culture where teams have a common language, viewpoint and clear measures of success.
Helps you guide the organization to make decisions backed by facts, not opinions.
So what is the solution?
Maybe you don't feel like you have the resources (e.g., time, people, energy) to consolidate your ad-hoc measures or even start measuring to begin with. But have you thought about how much time your team can potentially save? You'll find there are far fewer fire drills happening across the department that send people scrambling to pull data and create reports. When you take the time to set up a measurement dashboard, then most of the information you need is already in one place.  Plus, you'll have it to make strategic marketing decisions.
How to get it done in three steps
To start developing a measurement dashboard you'll need a few champions and one streamlined process. Here's your roadmap in three steps:
Get senior leadership buy in and support. Share the value of having a consistent, single point of view to measure performance across teams and track progress toward key performance indicators such as advertising impressions, consumer perceptions and social media engagement throughout the year.
Appoint subject matter experts (SMEs). Find one person for each area of business who has access to the metrics you need to include in the dashboard. Start small; more detail can be added later. SMEs typically shouldn't cover multiple parts of the business. For example, a digital SME is not a media relations SME.
Get a great nerd to put it all together. Find someone – or a small team – skilled at working with data. To start, the dashboard format can be a simple table, series of charts or a blend of the two. What matters most is that it's easy to digest and stays consistent over time. Then you can start understanding how well your marketing dollars are working at driving awareness, preference and new patients.
Learn More at the SHSMD Annual Conference
For additional insights, be sure to attend the SHSMD Connections annual conference in Nashville where we will be presenting "Marketing Measurement 101:  Everything You Need to Get Your Marketing Metrics Working for You" on Wednesday, September 11 from 9:45-10:45 a.m. It will be one of a broad range of educational sessions offered at the conference designed to position SHSMD members for success in the new health care landscape.