By Brittnay Bell, Account Executive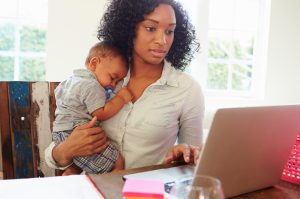 COVID-19 has upended most of our daily lives. From self-quarantine, to becoming teachers for our children overnight, while also working from home, and cooking most – if not all – of our daily meals. These changes have had a massive impact on our lives, and it can get hectic and overwhelming very quickly. As someone who periodically worked from home before the pandemic and has close friends who permanently work remotely (with young kids), here are the top 5 things you can do to take a bit of the stress out of working from home while under quarantine.
Create a schedule, and stick to it
Create a schedule around your to-do list and set expectations for when your children will complete schoolwork. Having structure and setting expectations will help create a sense of normalcy in these unprecedented times. It will also help you get into a groove of productivity. There are tons of resources out there like these tips from home school pros and this list of scheduling hacks from veterans of the work from home movement.
Have a plan, specifically for activities and meals
All work and no play would make anyone dull. When making your schedule for the day, or the week – be sure to include time for exercise and play. It also helps to have an outline of meals when you're shopping for two to four weeks' worth of food at a time. Need some inspiration? Here are a few freezable meals from my favorite food blog that are easily prepped and frozen for when you just don't feel like cooking. Also, Pinterest is a great resource for finding new recipes.
Find time to move (outside or inside)
Speaking of exercise, studies show that enjoying at least 30 minutes of physical activity every day can elevate your level of immunoglobulins (the proteins that build your immune system), release biological mood boosters like serotonin and dopamine, curb food cravings, and help you burn more calories even when at rest. Technology has made working out at home more accessible than ever. There are dedicated apps with paid subscriptions, tons of free videos on YouTube, and a quick Google search will provide endless options (both paid and free) that require little or no equipment. You can also take a stroll around the park, go for a jog outside, or take the kids to an open field to run off extra energy – just remember to stay at least six feet away from people outside of your group.
Create a dedicated workspace (preferably not the couch or your bed)
This is crucial. Our beds, sofas, and TVs can be productivity zappers. You want to make sure you are in a space to be as efficient as possible so that you can stick to your schedule, get work done, and avoid job creep. Having a dedicated 'office' space – whether it's a separate room, a dining room table, or just a quiet space in your home – helps you set boundaries and stick to your new work schedule.
Utilize technology to stay connected to those who matter most
Isolation can get lonely, but we are fortunate to have options that help us stay connected to our loved ones – even if we can't be physically present with them. Group Facetime allows you video chat with up to 32 people! Not a fan of Apple products? Other options include Skype and Google hangouts. You can have a movie night, thanks to Netflix Party, an extension of Google Chrome. Game nights aren't canceled either, apps like Bunch and Houseparty let you remotely host games with friends and family.
Most of us are in uncharted territory here – but when we do our individual part, we collectively help to #FlattenTheCurve.